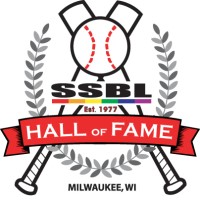 HALL OF FAME MEMBERS
PRESTON ALVADJ
SUZI ARNOLD
KURT BALDWIN
STEVE BEHL
DEAN BLASER

CHUCK BROTZ
SCOTT BURAC
RON BURBEY
JIM CALDWELL
MARY CONNELL
MARSHALL EHELER
STU FEIDER
DAVID FRE
ARNIE GARCIA
MONA GARCIA
MARK HAGEN
MARK HARE

PATRICK "TOBY" HENEY
DOUG HINDERLITER
MIKE HUGHES
JIM HUNNICUTT
LOU LASOTA
BILL LISON
PHIL MEGNA
MIKE METZGER
ERIKKA MIXDORF
TODD MUMA
DAN NELSON
PETER NYS
DAWN PINKOWSKI
BRIAN REINKOBER
BRIAN ROCHON
TOM ROWLAND
TOM SALZSIEDER
RON THATE

ERIC VAN EGEREN
FRANK VILLARREAL
BILL WARDLOW
JERRY WARZYN
JEFF WEIGAND
MIKE WESTLEY
BOB WHALLEY
PAM WOYTHAL
JAMES YACKLOWICH
MELISSA ZETTEL

WAYNE BERNHAGEN - DECEASED
CHUCK CICIRELLO - DECEASED
JIM FLORA - DECEASED
SHIRLEY FITZPATRICK - DECEASED
PAUL HAASE - DECEASED
RICK KOWAL - DECEASED

DARWIN LAUTERBACH - DECEASED

ARTURO OLAZABAL - DECEASED

TED QUARTUCH - DECEASED
JACK SCHULTZ - DECEASED
TOM THEIS - DECEASED
BRUCE THOMPSON - DECEASED
MARK UPHAM - DECEASED

NAGAAA HALL OF FAME - MILWAUKEE MEMBERS
MONA GARCIA
MIKE HUGHES
BRIAN REINKOBER
TOM SALSZIEDER
MIKE WESTLEY

ARTURO OLAZABAL - DECEASED
TOM THEIS - DECEASED

(click here to view the NAGAAA Hall of Fame)
PURPOSE
The purpose of the SSBL Hall Of Fame is to provide an historical perspective and perpetuate the history of gay softball and SSBL Milwaukee.
MEMBERSHIP ELIGIBILITY
Anyone, living or deceased, who has been associated with SSBL Milwaukee is eligible for nomination to the Hall Of Fame. This includes players, managers, coaches, scorekeepers, umpires, sponsors and fans. Nominees should have made significant contributions to the SSBL.
APPLICATIONS
Applications for Nominations to the SSBL Hall of Fame shall be given to the Hall of Fame Secretary by July 1st of each year. The applications may be submitted by any person who is familiar with the candidate. The Secretary of the Hall of Fame Committee will prepare a ballot with the names of all nominees and will submit the ballot to the voting members within 30 days of the deadline for nominations. Voting members will have 30 days from the date the ballots are distributed to return them to the Secretary of the Committee. The voting member may vote for as many of the nominees as he or she wishes. A nominee must be selected by two-thirds (2/3) of the votes cast to become a member of the SSBL Hall of Fame. The Secretary of the Committee will tabulate the results of the voting, and notify the nominees, SSBL Officers, and the living Hall of Fame members of the results. Kurt Baldwin & Mona Garcia will be acting Co-chairs of the Hall of Fame for 2021.
VOTING MEMBERS
Voting members shall consist of the living elected members of the SSBL Hall of Fame.